Philippines Urban Living Solutions (PULS) and Devex Incorporated held their first Top-Off Celebration for their project MyTown Athens last August 29, 2017 in Makati City.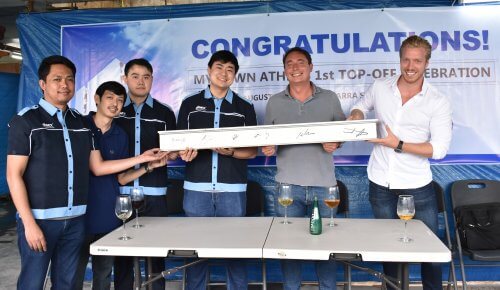 Gracing the event were (see photo, L-R) Engr. Carmelo Pesigan (Devex Inc. Project Manager), Engr. Richard Lorilla (PULS Head of Construction), Charles Edrick Ng (Devex Inc. President and CEO), Clarke Edinburg Ng (Devex Inc. COO), Mark Arellano Kooijman (PULS Founder and CEO), and Jelmer David Ikink (PULS Investment Advisor). As part of the celebration, VIPs from the two companies signed the ceremonial beam with cheers from visitors and guests from different partners. Partners from OSEN were also present in the said occasion.
MyTown, developed by Philippines Urban Living Solutions, Inc., is a purpose-built young professional housing project in the Philippines. Established in 2013, MyTown specializes in the development of rental housing communities at walking distance from the central business districts of Metro Manila.
Devex Incorporated is also the contractor for other projects MyTown Amsterdam, MyTown Tokyo, and MyTown Tokyo.